Post by Sirèna May on Dec 12, 2012 23:00:33 GMT -8
Name:
Sirèna May
Age:
18
Species:
Havmand (Scandinavian for Mermaid), Merefolk/Meerfrau (Phillipine for Merfolk), or Sedna (named after a Inuit sea Goddess) (don't know which one yet, or if it's just going to be Mermaid)
Occupation:
Citizen, but wishes she could join something and not have to hide her species (no one knows about them)
Photo: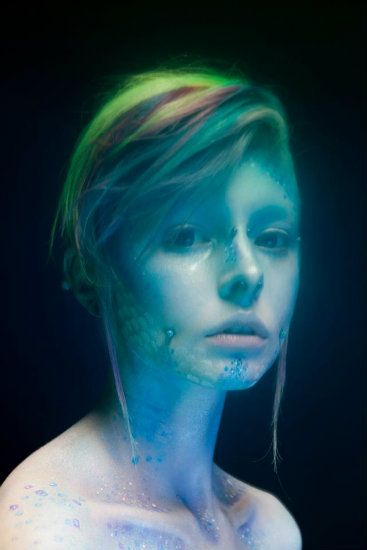 Love Iska... SHE DOES ALL HER OWN MAKEUP!!!
History:
Sirèna was born to her parents Mikèl and Sètrina along with her twin sister Soarè. Naming girls with names that start with the letter "S" is a tradition of this specific mermaid like species. The first time she ever came up from the Ocean it scared her because she lost her eye and face scales her fins on her fore arms and calves disappeared and so did the webbing between her fingers and toes, but she was only five so her panic was under stood by her parents. Every year after that her parents spent a week above the ocean, only swimming in it for an hour to make sure they didn't get sick or die. By the time Sirèna was 14 she was constantly above water so her parent's bought her a house near the beach in L.A. where she's been living ever since. Because of living in L.A. she was introduced to tattoos and piercings, she didn't really like tattoos and besides it already looked like she had some, her gills became tattoo looking things until she gets back into water, but she really liked piercings so she got a lot of them, most in her ears but she got her Dimples done, her lip pierced a couple of times, her nose (bridge and Septum) and a lot in her ears.
Personality:
She is normally a very happy girl but if she's too far away from the ocean (other than getting sick) she becomes very grumpy/raged. She has almost killed someone that annoyed her because she was too far from the ocean; let's just say she's not welcomed in Winchester, KS, anymore. But mainly she's just happy, lots of smiles for people and hugs for friends. Be warned though, if you're an enemy of hers, her specie's tradition for her people to attack and (try) to kill their enemies. Her personality has been described as an Ocean of emotion. One minute calm and serene the next minute trying to kill someone she doesn't like.
likes;
getting piercings, short hair (on her), Dyeing her hair, listening to music, warm weather, rain
dislikes;
large crowds, loud people, spiders, wasps, ice, "Normal" people, dry weather
turn ons;
long hair, good personality, humor
turn offs;
Rude people, people who are cruel, people who don't know how to take 'No'
First Account or a Mutiple One:
Suta xD
How did you find us:
Been a member for two years!!!!