Post by Harley Carrero on Oct 4, 2011 11:33:07 GMT -8
Name:
Harley Olivia Carrero
Age:
25
Species:
Human
Occupation:
Citizen, police officer.
Photo: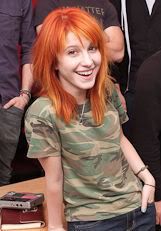 Hayley Williams
History:
(This'll probably be short compared to Bam's... But then again, a thirteen paragraph history would be short compared to Bam's...)
Born to Amelia and James Carrero, Harley is the youngest of two children. Her brother, Logan, is one year older than her and always been the protective older brother. The siblings were born in Sicily, but moved to England when Harley was three as Harley's grandmother, Lenore, had cancer.
When Harley was six, her grandmother died and Harley, Amelia, Logan and her grandfather, Luke Carrero, were devastated. James comforted his wife while Logan and Harley comforted each other and their grandfather. Harley used to try and cheer her grandfather up by reminding him of the good times that he had with Lenore and that the siblings had with the pair of them... Or at least, the ones that Harley could remember and coats Logan into spilling. She could still remember one time when her grandmother and grandfather took Logan and Harley up to the shops that was a short walk away, and Harley decided to wear roller skates. Harley was five at the time and Lenore had just laughed when she saw Luke dragging Harley up the hill that led to the shops...
Growing up in Guildford, England, Harley went to schools in Horsel, Surrey, from when she was five until when she was twelve. She then went to a Guildford high school for her teen years before leaving school at sixteen to go to college. Amelia told Harley many times that Lenore always thought that Harley would grow up well... Lenore thought that Harley would be a good girl, and be fair... This made Harley decide that she wanted to be in the police force when she left school and education, and studied in college so that she could apply for the job. This made her parents, and grandfather, proud, though none of them knew why she had the sudden urge to not bother with being an author, which she'd been hooked on being since she was ten, and become a police officer... She finished college two years later and trained for the Guildford police force.
After two years on the police force in England, Harley quit and moved to New York, America, to try and get a job here. She joined the force just before her twenty fourth birthday and has been there ever since...
Lately, she's obviously known about what's going on, especially when the police's cases keep being taken by the Anomaly Unit... None of the officers she knows are all that happy about this, but Harley knows that if someone higher up were unhappy, it wouldn't be happening. She's curious as to what, exactly, the Anomaly Unit are, however...
Personality:
When Harley was younger, like, in her teens, she used to be shy, withdrawn and more than happy to be shoved out of the way of attention, should she need it. She hasn't changed in that sense, really. She's not as shy, aside from when she first joined the police forces, and knows when to shut up, still, but doesn't always pay attention to the common sense part of her brain which tells her when to shut her gob.
Often loud and somewhat boyish, Harley knows how to take care of herself, though does still love that her brother feels the need to phone up and check that she's not in any trouble. She knows that her brother would jump on the first plane here if he thought she was in trouble she couldn't handle, and she doesn't really mind that, as she'd prefer that to him not giving any damn at all...
Harley is also indecisive, most of the time. One obvious bit of proof of this is her hair. She changes it whenever she feels the need but is naturally brown haired. She's got a good, but slightly odd, sense of humour when in the company of people she feels comfortable with. She trusts too easily unless it's to do with her job and, though an adult, occasionally she'll be a little bit immature as she's used to just acting how she acts and no one caring all that much... Due to a mixture of this, and her physical limitations height wise (she's 5 foot 4) and the fact that she is just generally small, people sometimes underestimate her...
Harley is optimistic, though, always believing that the situation isn't the worst situation that could be happening at that moment in time...
First Account or a Mutiple One:
Second account. First one's Bam Bam. :3
How did you find us:
Adverts. :]