Post by Brandon Napier on Oct 1, 2011 0:54:46 GMT -8
Name:
Brandon Gerard Napier.
Age:
Looks 16, is actually 18.
Species:
... Vampire.
Occupation:
Citizen... (Never thought I'd say that for Bam...) Occasional arsonist... (That's better)
Photo: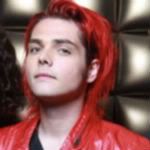 Gerard Way.
History:
('Doesn't have to be long.' I'm sorry, this this will be. Feel free to skip over it. I'm sure most admins do...)
Born to Donna and Donald Napier in New Jersey, Brandon is the oldest of two. His mother and father had different ideas on how to raise him and so often argued. Brandon can't remember any of these arguments, due to the fact that he wasn't even one at the time, and so he was blissfully ignorant of the disagreements. A few months after Brandon turned one, his brother, Jack, was born. A week after Jack was born, Donald Napier left, claiming that Jack was not his child and so he wouldn't bring up someone else's child. How wrong could Donald be? Well... Very wrong. Brandon is actually the son of Donald's brother, Gerard, though none of the Napiers except Donna knows this. Jack, however, is definitely Donald's child.
And that is just the beginning of his life.
The next few years of Brandon's life was all rather un-eventful... He spent the time throwing cushions and such at Jack and getting them thrown back. He also managed to fall down some stairs, though no one had any idea how considering he'd been nowhere near the stairs moments before...
When he was seven, Gerard began teaching Brandon how to skateboard. Gerard gave Brandon a clean skateboard and told him that he could design whatever he wanted and Gerard had a friend who could put the design on the board. Brandon didn't bother drawing anything for a long time, as he just didn't know what to draw. He didn't want it to be too over the top, but at the same time, he didn't want it to be too boring... Until such a time as he could figure it out, Brandon had a completely clear skateboard deck. However, with the skateboard, came one of his most obvious traits: His possessiveness.
When he was younger, Brandon used to spend one week per Summer in the company of Donald, in England... These were never enjoyable for Brandon, as Donald seemed to hate anything and everything. When Brandon began to learn about vampires, an obsession of his, he thought his 'father' was one at first, though was proved wrong when Donald chased him across the front lawn in the sun because Brandon had broken something of value to Donald, though Brandon cannot remember what it was for the life of him...
Anyway... When Brandon was seven, with his skateboard, he went to Donald's house for his week in the Summer. Donald, being the... Well... Everything hating git he is, took the skateboard away. Mistake number one. He then said that if Brandon tried to get it back, he would break it. Mistake number two. Brandon's solution? Stand over Donald with a knife as Donald slept and grin when the man woke up... Needless to say, Brandon scared Donald so much that night that he gave the skateboard back. Brandon was perfectly pleasant for the rest of the week. In fact, he was actually smiling when he got home...
When he was eight, a boy threatened to break Brandon's skateboard. Brandon didn't take too kindly to this, and beat the boy up with a brick until Donna stopped him and took him inside. It was about then that everyone who knew him knew that if they touched the board, he would be able to murder them on the spot. He didn't seem to have any care for anyone when he got that angry. Donna probably hoped that it would be the only time he would get that angry... She was right. Brandon has not been that angry since then.
Brandon's ninth year of life went by without much happening once more.
When Brandon was ten, though, more stuff happened. He accidentally killed a neighbour's rat when it ran across the ground in front of him and he threw a brick at it. He found Gerard's drugs, and almost got hit by Gerard until Jennifer, Gerard's wife, stopped him. Brandon had run away from Gerard as fast as his short, ten year old legs could. It was also around this time that Brandon found out that Donald didn't like dyed hair. The first thing Brandon did upon finding this out? Ask his mum if he could dye his hair bright red. Donna agreed, though not knowing that it was to annoy Donald... Though, he stopped going to see Donald during the Summer as Donna had decided that Donald was a bad influence on Brandon... Worse than the boy was on himself, anyway...
School went by without much of a hitch... Apart from Brandon repeatedly getting expelled from schools for fights/fires/random and meaningless acts of destruction... He soon got to a pretty bad school and stayed there until he was sixteen, which was when he decided that school could just... Burst into flames one night...
I promise, it wasn't Brandon... Okay, maybe it was. But no one ever found out except his friends and his brother... And none of them would tell the police on Brandon considering he'd basically given them a few weeks off at the beginning of the year while they repaired the place. His brother wasn't happy, but Brandon ignored his brother, like he usually did, and relied on the saying 'blood is thicker than water' to ensure Jack's silence.
One night, when he was sixteen, Brandon was wandering the streets when some... Random bloke... Came up to him and bit him. When he realised what had happened, and after any pain/odd feelings abandoned him, Brandon ran home, finding that he was faster than normal, and also finding that, as he kicked the front door down in a panic of not being able to find his key, he had abnormal strength.
Though Brandon was, at first, freaked out that he was a vampire in New Jersey, he wasn't all that surprised. He was a vampire geek, he knew that they could be anywhere... Though he didn't actually know they were real... That was a surprise and a half...
After a year of living with his family, Brandon decided that, with this speed of his, he wanted to travel. And why not? He could basically go anywhere, do anything... Hell, he could be a master thief if he really wanted to... It was just a case of figuring out what he wanted to do...
So off he went, in the night. Brandon had always hated goodbyes, so he left a simple note of 'going travelling, be home around tea time'. Simple. He suspected that his mother would like the slight humour of the note, and he doubted Jack would mind that much... He had a vampire, hyper, pyromanic brother... Who would actually miss one of those?
Personality:
(This is long too because I added in strengths and weaknesses... They're personality, right?)
Bam has an out of control personality, though also bi-polar. He has occasional mood swings in which one day he will be hyper and bouncing around the castle, but other times he will be completely calm and barely doing anything while other times he will go missing as he suffers a slight depression on those days and prefers to stay away from everyone else.
Though generally friendly, Bam only actually forms friendships with a small amount of people. He rarely trusts people because he knows that everybody lies. Even him...
As with everyone, Bam has strengths and weaknesses. A strength of his, though it's also a weakness, is his general lack of mental stability and lack of own safety. He is, however, loyal towards his friends. He's also a compulsive liar on a good day and even more on a bad day. He doesn't tend to tell anyone about his past, due to the fact that he hates to talk about himself. Bam is a pyromaniac and a smoker, probably not a good thing, with an explosive temper that effects his smoking and fire urges. When badly angered, his true insanity shines through and he will often try and force people to injure him, or come out with some reason that the other person wouldn't hurt him to do some form of reverse psychology on them... He also often laughs when people try to hurt him. This is normally before he tries to do any reverse psychology or whatever.
His laughing is also a strength, as he doesn't let anything effect him. Many times in his years at Hogwarts, he's been insulted and called names, and he just takes it in his stride, either bowing or thanking the person. Other times he'll just ask how they know him so well then cackle his way to his next annoyance victim.
Another weakness is, perhaps, joint to his loyalty. He gets even easier angered when someone insults those he cares about. If someone wants to badly effect him, then they could insult him or his worth as he is rather self conscious. This is usually shown when someone says that he's fat, even if it's only made as a joking remark, he'll cross his arms over his stomach as though trying to shrink it. He hasn't really got any reason to, though, considering he's mad enough to do just about anything, and so he can't put any weight on.
First Account or a Mutiple One:
First, probably only.
How did you find us:
First time or second time?
First time: You advertised on my site.
Second time: I don't remember the name of the site that I was hopping from...